Primexis is a Platinum Partner of the CCH® Tagetik France InTouch Paris 2023 Conference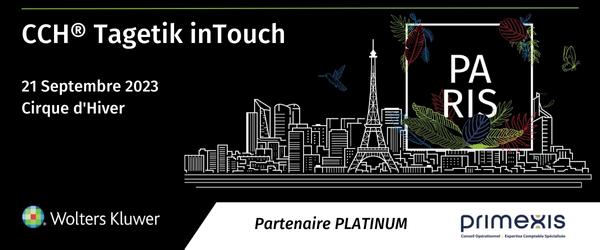 Primexis is a platinum partner of the annual CCH® Tagetik France InTouch Paris 2023 conference, which will be held on Thursday, September 21 at Cirque d'Hiver in Paris. "Lead the Change" is the theme this year for this not-to-be-missed event in financial performance management.

Olivier Gentile, partner at Primexis, is invited to speak at the conference's plenary session. He has over 20 years of experience in both information systems and consolidation and specializes in integrating EPM solutions.

More than 400 CFOs and finance transformation experts are expected to attend this annual conference. It is an excellent opportunity to discuss recent trends and innovations in performance management as well as share best practices with market players and hear feedback from successful projects.

We invite you to come and meet us at our Primexis stand where we would be delighted to talk about how we can provide you with personalized assistance in your transformation process.

Why take part?
– Access exclusive content on CCH Tagetik product news and innovations
– Hear feedback from successful projects
– Attend sessions on current topics
– Enjoy a unique moment filled with surprises in an exceptional setting and festive atmosphere

Isabelle Autissier, honorary president of WWF-France and renowned sailor, will share her unique insights as the first woman to have sailed solo around the world as well as being an avid environmental activist and committed author.