Outsourcing the administrative and finance function:
Expert advice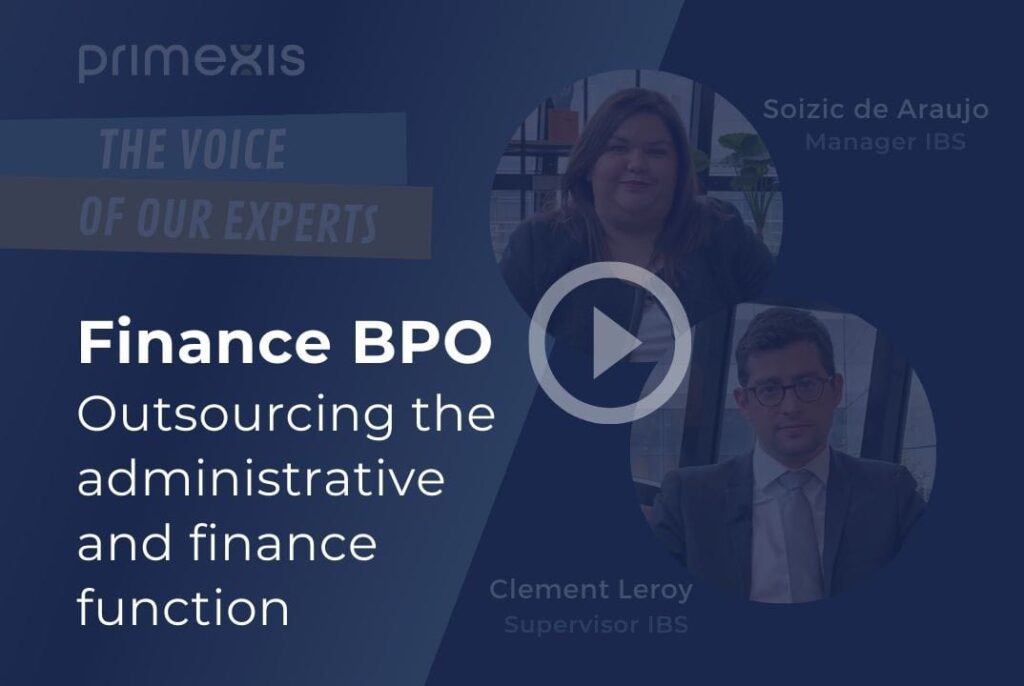 In this exclusive interview, Soizic de Araujo, Manager, and Clément Leroy, Supervisor, from Primexis' International Business Services team, share their experience regarding outsourcing finance functions for French and international groups.
The interview is also available on Primexis' YouTube channel.  
Soizic and Clément assist clients with tasks such as bookkeeping, monthly reporting, tax compliance, GAAP conversion, and more.
You can also learn how our Finance BPO offer allows you to focus on the heart of your business by offering you more flexibility with operational management and cost rationalization. 
What was the last project you worked on? 
Soizic : Recently, I worked for a large European furniture group to take over the finance function of 22 companies in the context of a carve-out. Our assignments consisted of migrating their ERP to our accounting and IT solution, keeping their accounts, and preparing financial reporting.
Clément :  The assignments are essentially BPO assignments, business process outsourcing. Recently, for a large, French industrial group, we took over their administrative and finance function for the group's holding companies. I'm in charge of reviewing the accounts kept at Primexis, monitoring tax returns, supervising the periodic reporting produced by our teams, and preparing the corporate financial statements and annual tax returns. 
Who are your day-to-day contacts? 
Soizic : My day-to-day contacts are accounting and finance departments of listed or unlisted French or international companies. 
What are your clients' most common expectations? 
Clément :  Generally, our clients lack the internal resources to meet their reporting needs. Above all, they seek flexibility by outsourcing the finance function, often as a result of group reorganizations after mergers, spin-offs, or carve-outs. 
How can Primexis' Finance BPO solution help companies? 
Soizic : Primexis' specific Finance BPO offer meets our clients' needs by providing them with the tools they need to outsource their finance functions with an initial project mode phase, which involves recovering their accounting data and transferring our internal solutions – CEGID for accounting and  YOOZ for supplier management – and implementing a cash management solution and then, providing a dedicated and multidisciplinary team to keep accounts, prepare financial reporting, and manage tax integration. 
How is client satisfaction a key element of their loyalty? 
Clément :  Clients are satisfied when we have provided solutions to their problems. Generally, they renew the assignment and enrich it with additional requests or complementary assignments. Our clients regularly recommend us to other company departments. 
Any final words before ending this interview? 
Soizic : I've been working at Primexis for many years, and I've never had time to get bored thanks to the richness of the assignments I've been entrusted with and the exchanges with my contacts and the internal teams.
Clément : Throughout my career, Primexis has always offered me the opportunity to discover new assignments that have allowed me to enrich my skills, and, above all, I've learned about the power of teamwork. 
Would you like to outsource your finance function? Are you lacking internal resources? If you lack internal resources or if you want to outsource your finance function following a reorganization, our team is here to assist you. Visit our website to learn more about our Finance BPO offer.