Interview with Olivier Touchard,
Primexis Chairman,
on BFM Business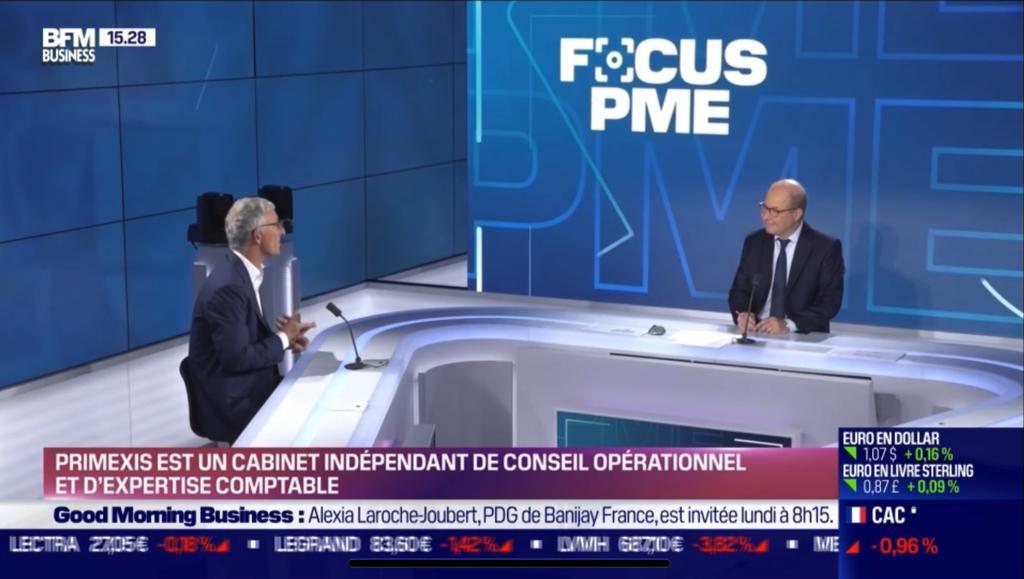 Olivier Touchard, Primexis chairman, was invited to participate in the "Focus PME" program broadcast on BFM Business. During this interview, he spoke with journalist Vincent Tourain about the many facets that define our firm. The interview was broadcast November 11-12, 2023.
This interview offers an in-depth view of our business, highlighting Primexis' 3 areas of expertise: Financial Consulting, Accounting, and HR/Payroll. They also discuss our major current projects, our clients, and much more.
Vincent Touraine: An independent financial consulting and accounting firm for intermediate-sized enterprises and major international corporations. This firm is Primexis, and Olivier Touchard, who is here with us, leads it. Thank you for joining us on "Focus PME" [SME]. Tell us who Primexis is. And what are your areas of expertise?
Olivier Touchard: Primexis is a financial consulting and accounting firm. We are located in Paris, La Defense. Today, there are 400 of us, and we are planning to make a turnover of 50 million euros in 2023. We have a wide range of expertise, but broadly speaking, we work with corporate finance departments, information systems departments, and human resources departments. Our areas of expertise for these 3 corporate departments are essentially in the fields of accounting, taxation, controlling, and payroll and human resources.

VT: Who are your typical clients, particularly among ETIs and large-scale international companies?
OT: Our clientele consists of mainly very large international companies, mainly listed companies, regardless of the sector. On the other hand, we also work with ETIs, intermediate-sized companies. From time to time, we will have a few SMEs, but objectively speaking, large companies and ETIs make up our clientele.

VT: Any particular sector or all sectors of activity?
OT: We work in all business sectors. However, we are specialized, specifically in the Real Estate, Banking, and Insurance industries. All in all, we work with companies in all sectors.

VT: Why do people come to you?
OT: Not only do clients come to us, but they also come back, and they stay! There are many reasons, the first being our expertise. Clearly, what the clients are looking for from us is skill, exceptional know-how, and high levels of expertise.
VT: And that's been the case since 1978…
OT : Absolutely! We started out with this strategy, and we continue to do it this way. Our clients look to us for more than just know-how. They are also looking for interpersonal skills, in particular, our commitment to see projects through to the end. When we talk about financial consulting, we put the operational side of our business at the forefront. We advise, but we are also involved in carrying out the work and seeing these projects through to completion.
VT: What type of assistance do you offer specifically to French subsidiaries of international groups?
OT : This is our core business. We started in 1978 specializing in French subsidiaries of international groups, regardless of their nationality, North American, Japanese, whoever. They face a particular challenge: finding a trusted partner in France.
What they are looking for is a chartered accountant or advisor who can act as this trusted third-party, to whom they can give the keys for their subsidiaries in France for accounting, taxation, controlling, cash-flow projection, and day-to-day consulting. In general, they find themselves rather helpless in France and often without support.
We act as this trusted-third party to support them. We even go so far as to domicile these companies at our company. More than 100 companies have their head office at our office, for those companies that do not have a head office, especially those in the service industry, where offices are sometimes not necessary.

VT: Over 40 years in business, 45 years to be exact. Let's talk about the next steps in your big projects. What's planned for the future?
OT: We have two projects being carried out at the moment. The first is a project focused on CSR (Corporate Social Responsibility). On one hand, we are looking to make our company more responsible, and on the other hand, we are developing a CSR assistance offer for our clients. This is a subject on which we recently started concrete initiatives that is quite close to our hearts. The second project is our corporate strategy. We recently finalized our 2024 strategic plan and are now involved in drawing up our next plan for the coming years.
Don't miss the entire exclusive interview.