Cross-over interview from the experts at
Bel Group & Primexis
about a Cash Management project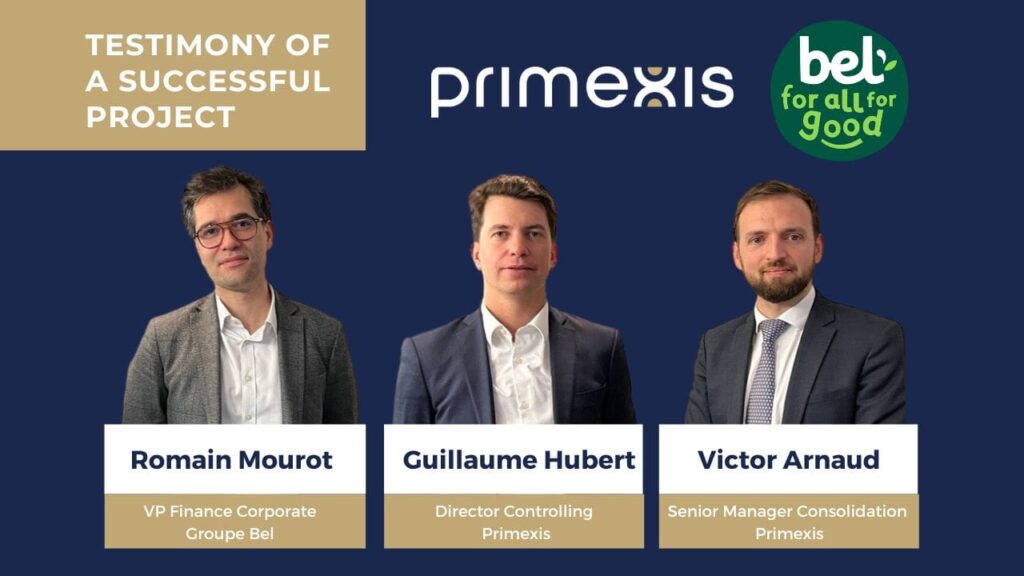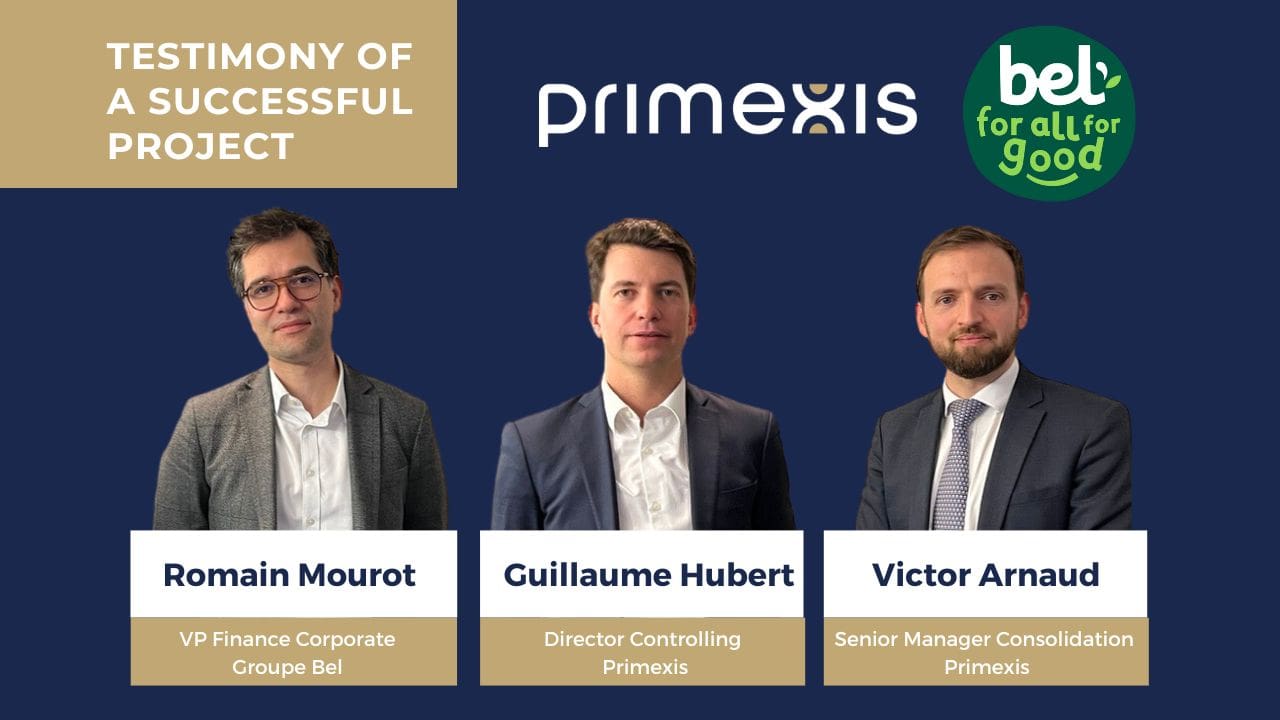 Meet our clients: Cross-over interview from the experts at Bel Group & Primexis, who share their experience with a large-scale Cash Management project. This interview is now available on our YouTube channel.  
Learn about Bel Group and Primexis' successful collaboration on a complex cash flow management project through an interview between Romain Mourot, Bel Group VP of Corporate Finance, Guillaume Hubert, director of controlling, and Victor Arnaud, senior manager in consolidation at Primexis.  
This cross-over interview from the experts provides a detailed overview of the methods, tools, and strategies put into place to achieve the Cash Management project's ambitious objectives, the major steps in implementing it, and the factors that contributed to its success.  
Bel Group successfully centralized and improved its cash management through this project, while increasing its ability to forecast short- and long-term financing needs. By working in close collaboration, our teams were able to carry out this engagement efficiently and in an agile manner with particular attention given to training the employees involved. 
In his comments, Romain Mourot also explains how Primexis' technical expertise in accounting, consolidation, and controlling was a decisive factor in Bel Group's decision to work with our firm.  
Who are you and what does your company do? 
Romain: Romain Mourot, Bel Group VP of Corporate Finance, in charge of the controlling, consolidation, and internal control functions. The Bel Group is a French, family agri-food group known for its iconic brands, such as Laughing Cow, Kiri, Babybel, and Boursin, and for being a main player in the healthy snacking sector. 
Guillaume: I am Guillaume Hubert, director of the controlling service line at Primexis, a financial consulting and accounting firm. I joined Primexis in 2014, and I assist our clients with projects to optimize performance management. I have been working with the Bel Group in this context on a Cash Management project.
Why did you decide to start a "cash management" project within the Bel Group? 
Romain: It's the result of three consecutive years of crises: first the Covid crisis and then the geopolitical crisis in Ukraine resulting in an inflation crisis, and therefore, a volatile and uncertain environment in which we are currently working. It's an environment in which short-term decisions and the reliability of our cash forecasts have become essential. Therefore, within this context, in 2021, we started a cash management project aimed at adapting the entire organization of cash, decentralizing its management, and improving our forecasts. 
What were the major steps in setting up this project?  
Guillaume: Setting up Bel's cash management solution was carried out in two large phases: the first phase related to defining the solution and its application development, and the second phase dedicated to implementing the operation and onboarding various cash stakeholders. The first phase consisted of working with the project team on four main points.  
First, defining cash flow management, its components, and also its organization process. Second, validating the different management rules, which was specific to each of the components of this new management tool. Third, in partnership with the Bel Finance SI teams, standardizing the BPC of a process enabling the construction of a managerial view, which can be analyzed as it is as well as during the projection phases, the budget, and the various estimates. And to finish, the last point, constructing modeling tools for certain cash items. 
Romain: Then, our objective was to onboard all of Bel's teams to the project to first, make the expertise that had been developed during phase one durable and then to make our finance directors actual project ambassadors.  
Therefore, we implanted a training program that allowed us to quickly ramp up our teams around a directly operational tool. We then developed communication kits to be sent to our finance directors to onboard their local executive committees and teams. 
What are key success factors for this project? 
Guillaume: The project's success depends on validating certain prerequisites, for example: being able to bridge a managerial view with a statutory view, which Bel's consolidation teams work on; working on a granularity analysis enabling the collection of all cash flux associated with various group scopes; and also building an automated cash process that meets the closing date.  
Romain: Our objective was to see this project through without losing focus on the local finance directors' day-to-day business management. This is why we decided to develop the tool internally with a reduced and dedicated team and Primexis' assistance, which, during the teams' onboarding, allowed us to focus solely on our teams in their training, adopting the tool, and onboarding their internal contacts. Lastly, we gave ourselves time to see this project through. This means a two-phase project. The first year dedicated to adopting the tool and adapting it, and the second year will be dedicated to navigating it in 2023. 
What is the specific 2023 road map for this project? 
Romain: In 2023, put into action and navigate! We have defined the cash management objectives for all of our subsidiaries. And to be able to help our finance directors in organizing these objectives, we have made new Power BI data visualization tools available to them, which allow them to have access to their levels of stock, receivable by client, and debt by supplier in real time. The objective was to improve our cash forecasts, and we have already noticed a real improvement in this area over the last few months.  
Why did you choose Primexis to assist you with this project? 
Romain: To see this project through, we needed dual expertise – technical expertise for areas such as accounting or consolidation and also controlling expertise. We already knew Primexis, who had helped us with matters like management transition in consolidation. So, it was natural that we turned to them to benefit from both their dual expertise and also their knowledge of the group and of our processes.   
What are the context and objectives for the consolidation assignment? 
Victor: I am Victor Arnaud, and I have also been assisting the Bel Group on specific consolidation matters for a little over two years. Recently, I filled in as the director of consolidation. I managed the three members of the team to guarantee the continuity of service operations. We produced the bi-annual consolidated accounts while managing specific areas, like moving a group's entity under IFRS 5 or hyperinflation in Iran and Turkey.  
I then worked on the transition with the new director of consolidation so that she could take over her position efficiently and have everything ready for the third quarter closing. Today, I am assisting the consolidation department with specific needs for annual closing, in particular, the sale of a Moroccan entity previously under IFRS 5 and also with new acquisitions. I really like the relationship of trust that has developed between the Bel Group and Primexis, which allows us to work on increasingly interesting matters and to bring in our expertise wherever it is necessary.